MEN'S FASHION TREND #7: SLING BAG SKATER STYLE
SG Says: Yes, it's basically just a fanny pack slung across your body. Maybe you can't stomach this accessory but are ready to revisit skateboard hoodies, or cargo pants. Whatever skater style means to you, 2019 could be the year to bring it back.
Don't worry; we're going to try to convince you to go full body gear and wear a harness like Timothée Chalamet or Michael B. Jordan, a look Vanity Fair is calling "war-core" (like normcore, get it?). Unless you're into that kind of thing, in which case…hey, you do you!
HOW TO WEAR THE SKATER TREND
As with plenty of the trends in this list, the key to pulling off skater style as an adult is all in the execution. First, aim for one piece that says "skater" to you. Maybe it's a pair of checkered Vans. Or a five-panel hat. Next, keep the rest of your outfit more neutral in style. Going for a head-to-toe skater look in your twenties or thirties is reserved for Jonah Hill (and even he doesn't pull it off every time).
Finally, make sure everything you're wearing fits you well and is in good shape. You want to look intentionally stylish, not sloppy.
MEN'S FASHION TREND #8: BOLD SUITS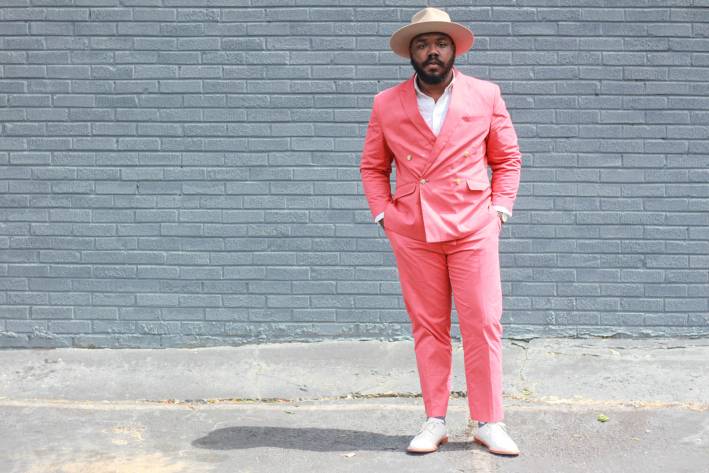 SG Says: Okay, okay. Bright pink might not be the next shade on your suits shopping list. But! What about a rich blue? Or emerald green? Just think about it!
HOW TO WEAR BOLD SUITS
Y'know all that advice we've given on how to shop for a suit, how a suit should fit, and what to wear with a suit (cough *turtlenecks!* cough)? Yeah, do all that; just do it in a bold suit!
Seriously, the best tip we can give once you have the fit down is Dress with confidence. If you act like you belong in a bright pink suit (or okay, a blue suit, or a green suit), everyone else will believe that you do.
Oh, and the ones that don't? Fuck 'em. They don't matter anyway.